Summary
Cleaning your eavestrough is important for preventing water damage to your home.
Many homeowners ignore their eavestrough or attempt to clean it without the right skills or tools.
Alu-Rex Leafguard can be a smart investment for homes near trees or with trees in their landscaping.
Tools needed to clean your eavestrough include work gloves, safety glasses, ladder, bucket, and hose.
Protective clothing includes puncture-resistant gloves, canvas jacket or thick work shirt with long sleeves, jeans, boots with traction soles, and a tool belt.
Standard garden sprayers are adequate for the task of cleaning eavestroughs.
Many homes in Calgary and the surrounding regions are two-story homes where getting on the roof to clean your eavestrough can be risky. Whenever working on your roof or eaves, take your safety seriously and ensure you are not taking unnecessary risks.
If your home is a bungalow and you're fairly handy, you'll find some useful advice below that can help you clean your eavestrough on your own—but otherwise, we recommend hiring professionals to clean your eavestrough for you. Note that we do not offer eavestrough cleaning services!
Your eavestrough plays a vital role in keeping your home safe from water damage, but it needs to be kept clean if you want it to work properly. Many homeowners either ignore their eavestrough completely or attempt to clean it without the right skills or tools—neither of which are good ideas.
We've been working on Calgary rooftops for years, and as one of Calgary's best eavestroughing companies, we know a thing or two about how to take care of your eaves.
Below, we'll show you why cleaning your eavestrough matters, and teach you a bit about the skills and equipment needed for the job. Once you know what's involved, you'll be able to make an informed decision about whether to try cleaning your eavestrough yourself or hire trained professionals.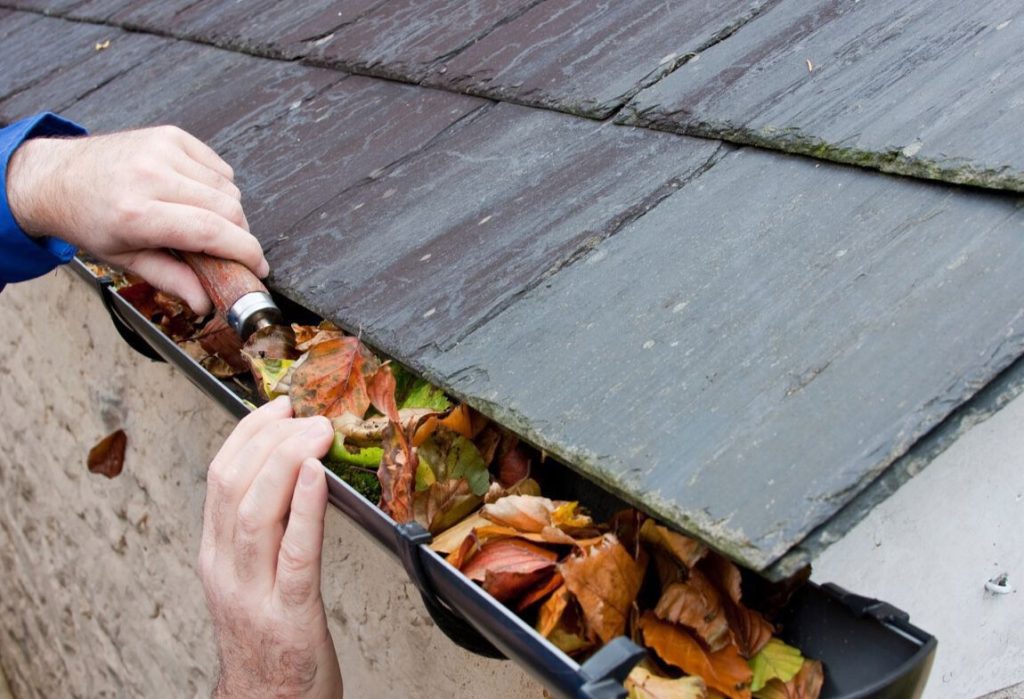 Eavestrough Cleaning Steps
The steps below are in the right order for most homes, but each home and situation is different, so use your best judgement when cleaning your eaves.
While on the ground, do a visual inspection of the condition of your eaves, soffit, fascia, and downspouts. You want to get an understanding of which sections of eavestroughing need to be cleaned, as well as the overall condition of the downspout (crushed/damaged downspouts won't drain mud/debris).
Determine where you will place your ladder and how you will access your eaves. Plan this in advance and ensure that you have a level and secure footing for your ladder.
Mount your ladder against your home and visually inspect your eavestrough. Take note of the condition of the shingles that overhang into the eaves.
Remove blockages from your eavestrough by hand and rinse everything else down the downspouts using a hose. Light soilage can usually be rinsed away easily. If you have a lot of mud, sticks, leaves, and other debris, you will need to clean them out by hand.
Repeat the above steps until you have cleaned all your eaves.
It may make sense for you to work on your roof vs. using a ladder. If you choose to walk/work on your roof, make sure that you know how to work on your roof safely and that you secure yourself appropriately.
Why Do Eavestroughs Need Cleaning?
Cleaning your eavestrough prevents debris from building up inside and blocking it. A blocked eavestrough can't carry water off the roof and away from your house—instead, water flows over the sides of the eavestrough and runs down the walls of your home, pooling near the foundations. Over time, this process can cause water damage that significantly reduces the value of your home.
If your eavestroughs are damaged, cleaning them may be a good idea but won't solve the broader problem. Read more: Signs That You Need to Replace Your Eavestrough.
Alu-Rex Leafguard is a Smart Investment for Many Homes
Homes in the Calgary area, as well as surrounding communities, are often built near trees or have trees added as landscaping. Large trees will shed a lot of leaves/needles, and if your home is in an established community with mature trees, this becomes a sizable task every year to clean up.
If your home is near mature trees, investing in Alu-Rex Leafguard more or less eliminates your need to clean your eaves. Learn more about Alu-Rex Leafguard.
If your home is in a newer community with smaller trees, or if your home isn't close enough to trees so their leaves and branches can't fall on it, then investing in Alu-Rex Leafguard is likely unnecessary.
What Tools Do You Need to Clean Your Eavestrough?
Anyone who's going to try cleaning their eavestrough needs a few tools and other pieces of equipment.
These are the essential tools needed to clean your eavestrough:
Work gloves (you never know what will be in the debris you're cleaning)
Safety glasses
Ladder (with attachment to safely rest on your roof or siding)
Bucket
Hose (with spray attachments)
We also recommend that you wear work appropriate clothing, as you're going to get dirty and wet.
What Type of Ladder Is Best?
You might think any ladder will be sufficient for clambering up onto the roof to clean your eavestrough, but it's worth investing in a good one. According to OHS Canada, a thousand people are injured in ladder accidents every day—so the right ladder can make you a lot safer.
If you're cleaning your eavestrough by yourself, look for ladders with high capacities for weight, so you can be confident in their strength. It's also smart to look for multi-position ladders that will reduce your need to lean out at awkward angles, which can result in falling.
We comment that you buy a ladder with a platform to hold your tools so you won't need to hold either of them in your hands while climbing (we also recommend having a tool belt, which we'll talk more about below).
Ensure your ladder has an appropriate attachment to allow it to lean on or connect to your roof/siding. Leaning the ladder directly against your eaves may bend them (depending on what they're made out of), not to mention that the ladder won't be as secure.
If this will be your first time on a ladder, we recommend reading this guide on ladder safety.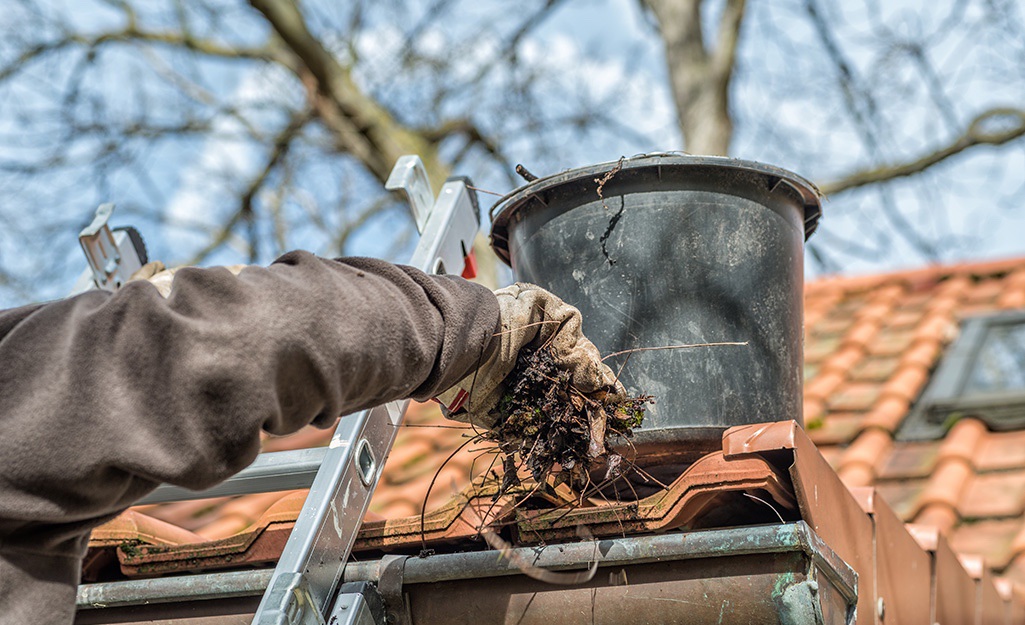 What Clothing Is Best?
There are a few pieces of protective clothing no eavestrough cleaner should ever be without:
Puncture-resistant gloves. These will help ensure that sharp twigs or rocks don't break the skin of your hands while you're cleaning them out of your eavestrough.
A canvas jacket or thick work shirt with long sleeves. Protecting your hands is only worth so much when the rest of your forearms can get cut or scraped working. Make sure your arms are entirely covered.
Jeans. The same philosophy applies to covering your legs—in fact, it's best to make sure no skin is exposed when you're working on your roof. Shingles have abrasive surfaces that can scratch the skin, and it's easy to bump or bruise your legs on sharp corners.
Boots with traction soles. The most important thing to consider for your footwear when cleaning the eavestrough is to make sure the soles won't slide on your ladder or roof. We recommend using dedicated work boots with thick tread.
A tool belt. Don't try to carry your tools in your hands while climbing a ladder or moving around on your roof. Keep them in a belt with loops and fasteners so that they'll be secure and within reach when you need them.
What Types of Hose Is Best & How to Use It Safely
One way to simplify cleaning an eavestroughs is by using a hose. You'll want to make sure you use a hose that has an attachment to help guide the flow of water, so that you can blast debris out of the eavestrough.
Many standard garden sprayers are perfectly adequate for the task, but you might also consider purchasing a cleaning wand online or from your local hardware store. These attachments spray water at higher pressure and are intended specifically for cleaning purposes.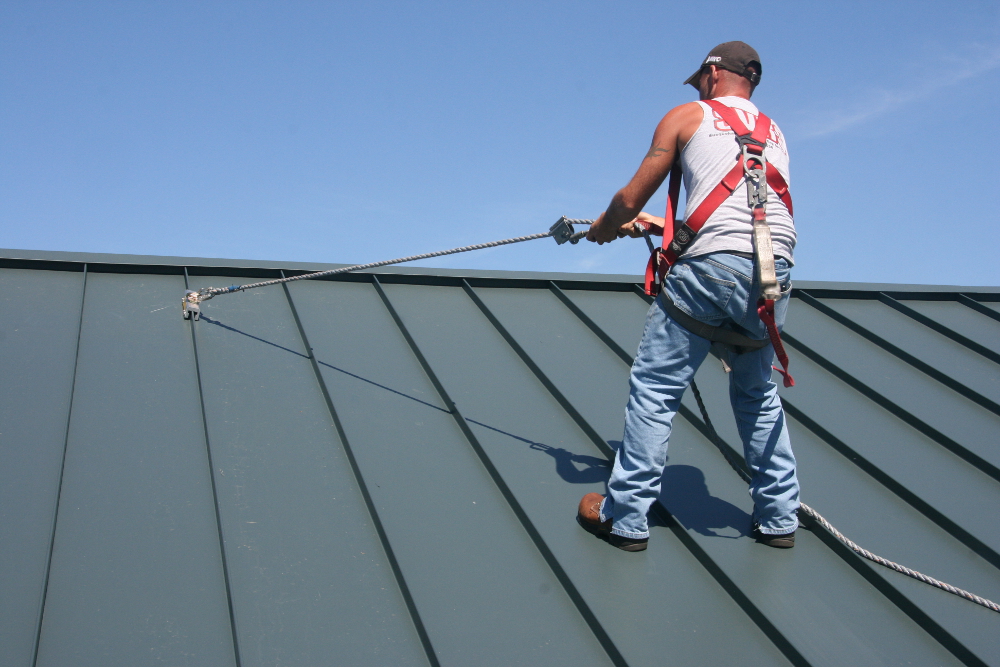 How Can You Make Sure You're Secure?
Anytime you're up on the ladder or the rooftop, it's important to make sure you're secured.
If you're working on a ladder, ensure that it is on level ground and does not slip when weight is applied. Ensure the attachments to the roof/siding don't slide around and can withstand moderate force.
How Do You Protect Gutters from Ladder Damage?
It's not a good idea to rest ladders directly against your eavestrough, since the weight can often bend or warp it.
Instead, use a ladder mount that can connect your ladder to the siding of your home without causing damage. Some high-end ladders come with mounting systems—so this is another good reason to invest in your ladder.
How Often Should You Clean Your Eavestrough?
You only need to clean your eaves when they are dirty and full of debris. For some homeowners this may be once every few years, or if you're in a community like Haysboro or Midnapore that has large trees close to homes, it may be once a year or more.
Should You Clean Your Own Gutters or Pay Someone?
If you know what you're doing and use the right gear, it's possible to clean your eavestrough by yourself—but we still recommend hiring a pro. This will save you the costs of buying proper safety equipment (unless you already have it) and be far less risky for you—especially if your home has multiple stories.
However, if you have a single-story home, are comfortable working at heights, and are intent on doing this task yourself, the info above can help you do it correctly. Use what you've learned to get onto your roof safely and remove debris from your eavestrough without putting yourself or your roof at risk.