Calgary's Eavestrough, Roofing, & Siding Experts
Helping Calgary's businesses and homeowners survive and thrive through Alberta's booms and busts since 1984.
Vinyl Siding Installation
A Multi-Generation Family-Owned Company

Founded by "Big Al" Perzylo in 1984, Big 5 is proudly family-owned and operated. Al's oldest son, Derek, took over operations in 2010, with Al's youngest son taking charge of eaves installations since 2016.
Al's work ethic, sense of responsibility, and commitment to bettering his community underpins our culture. We are proud of our work, and it shows!
Big 5 just finished replacing all my homes gutters. They did an amazing job! The crew was efficient and professional and the work was top notch!
Safe , professional, site was always clean. No chatting, no music, just 2 quality tradesmen getting the project done. They noticed a couple spots on second story where the caulk was letting go...they noticed and they fixed...i wouldn't have known if I didn't see them. Site was cleaned up like nothing happened.
I needed new gutters for a rental property, and they were professional and very efficient. They even nipped a possible leak problem in the bud for us! I would recommend them to anyone!
Get a No-Obligation Quote for Your Project

Get a no-nonsense quote for your project via email or give us a call - we'd love to earn your business.
Questions Customers Ask Us About Our Exterior Services

In a city growing as fast as Calgary, it's not surprising if you don't have an exterior contractor on speed dial. These FAQ's might help you feel confident about your investment in us.
Are your installers licensed, bonded, & insured?
Yes, our entire team is carrying all appropriate licensing and commercial insurance.
What are your safety procedures?
We have had tragic first-hand experiences that have ingrained in us the importance of site safety, situational awareness, and personal protection. A high-level, we:
Assess and control the job site as much as possible prior to any work beginning
Ensure any hazards, such as power lines, extension cords, etc. are identified and planned for
Plan our approach with safety in mind
Use appropriate scaffolding, harnesses, and safety straps when the situations warrant it.
Do not work in moderate-high winds
Do not work in rain or active snowfalls
We always operate in accordance with Alberta's building does and safety laws.
The safety of our crew and your home/business is the most important thing for us. If you have specific safety concerns or requirements, please let us know so we can ensure our teams comply with your requirements.
Do you offer financing?
Yes, we work with a third-party financing company and can arrange for 1, 2, or 3-year financing terms. Please contact us for more details.
What is your warranty?
All our services are warrantied. Most of our siding, roofing, eavestrough services are backed by our Big 5-Year Warranty as well as the balance of the manufacturer's materials warranty. 
As a company in business since 1984, you can trust that our team will be there to support your investment should a defect in workmanship be found.
How are your quotes created?
Please email or call us to get a no-obligation quote started. We may be able to provide a quote over the phone, though we often need to assess the site in person to take measurements.
Our quotes are inclusive of everything we need to get the job done, with no hidden fees.
Do you dispose of old eavestrough, shingles, siding, etc.?
Yes, our team will ensure proper disposal of any waste materials, including old material removed from your home.
Where appropriate, plastics and metals are recycled. We do our best to divert as much waste from the landfills as possible.

Practical advice for Albertan property owners created by a company born here. Boom to bust, we have Albertan's backs.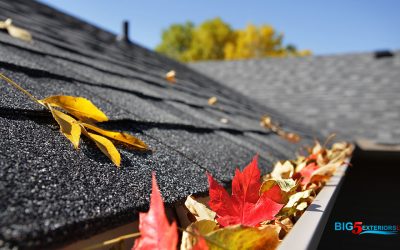 Summary: With Alberta's brief autumn, it's crucial to prepare your home for harsh weather early, focusing on the roof and water drainage systems. Inspect your homes roof for damages like curling or missing shingles and trim overhanging trees to prevent debris...