Eavestroughing & Gutters

---
Hundreds of Thousands of Feet Installed Since 1984

Request A Quote
Eavestroughing
& Gutters

---
Hundreds of Thousands of
Feet Installed Since 1984

Request A Quote
Continuous Eavestroughing / Serving Calgary & Area

---
Since 1984 – Expert Contractors You Can Trust
---
Continuous Eavestroughs Mean No Seams
Unlike eavestroughing that you can buy at a home improvement store, continuous eavestrough do not have seams in straight lengths- they only have seams in corners.
This means that you won't ever need to worry about repairing seams.
Guaranteed to be Leak Free

There's nothing more frustrating than eavestroughs that don't do their job. Who wants to deal with slippery or icy sidewalks?
Continuous eavestrough only have seams at the corners. With over 30 years experience, we've mastered the art of keeping seams sealed… like they should be!
5 Year Installation Warranty, 50 Year Material Warranty

We recognize the investment in your home you are making when you install new eavestrough. That's why we warranty our eavestrough installations with our Big 5 Year Warranty: we guarantee that our installation will be free of defects and will perform as intended. If not, give us a call- we're here to make sure you're happy!
Our eavestroughing itself is backed by the manufacturer's 50 year warranty, which covers you against manufacturers defects. Note that hail damage is not inclusive of this warranty.
Alu-Rex Leaf Guard Systems
If you live in a community with a lot of trees, like Haysboro or the Beltline, you'll know how frustrating it can be to have to hop up on the roof and clean your eavestrough. With an Alu-Rex Leaf Guard System, your eaves will remain free of debris. A side benefit of a leaf guard system is that the Alu-Rex systems are incredibly strong- you could hang off of your eavestrough and not bend or break it!
See what people are saying
Testimonials
---
Big 5 recently installed new eaves troughs on my mother's home. They did such a great job that I hired them to redo the eaves on my home. Once again they did a fantastic job. In both cases they had to solve some difficult issues. Their experience really shone through as, in both instances, they came up with good solutions to these challenging issues. The installers were very professional, skilled and courteous. Their excellent work sells itself as they have since been hired by several of my neighbors.

I wanted to send a quick email expressing my appreciativeness for the paint job done at my home. The gentleman was very professional and did a remarkable job. I am so happy with the results and felt it was necessary to pass along my appreciation.
I can't wait for the rest of the work to commence and thank you again for your help.
What to Expect During Your Eavestrough Installation

---
Working with us is easy! With over 30 years in business, we know a thing or two about keeping the quoting and installation process simple.
Here's what to expect when working with the roofing contractors at Big 5 Exteriors:
---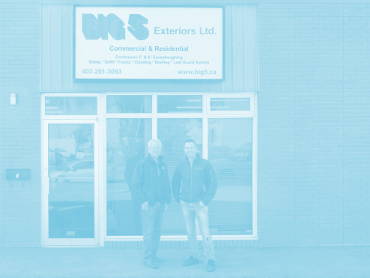 Initial Contact & Project Assessment
This begins as soon as you give us a call or send us a quote through our website. We will connect with you to learn more about your project, including any special details or requirements that you may have. We will also confirm which size and colour of eavestrough you require.
We will then schedule a time for us to come to your home or business to do an in-person quote.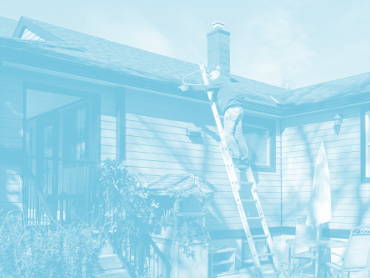 On-Site Measurement & Quote
During our initial conversation we will arrange a day and time for us to arrive. You do not need to be home or on-site for us to measure and quote your eavestroughing project. Of course, we like it when you are on-site as we enjoy meeting our clients and getting to know them.
We will get up on your roof and perform detailed measurements of all areas requiring new eavestroughing. This measurement insures that we are providing an exact quote for the complete scope of services that you require.
Once the measurement is completed and the quote is prepared, we will then provide you the quote via e-mail. We will only charge what is listed on the quote; we don't believe in surprise bills, and so we don't run our business that way.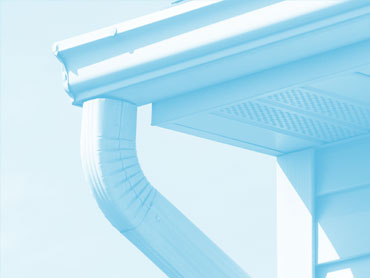 Removal of Old Eavestrough, Installations of New Eavestrough
Once the quote is accepted, we will arrange a day for us to come complete your new eavestrough installation.
We start by assessing the area for any items that could be hazards or damaged. We take note of sheds, power lines, and any other exterior fixture that may influence how we complete the job.
Old Eavestrough Removal
After we assess your home and property, we begin removing your old eavestrough. We are mindful not to damage your home or property.
Once all the eavestrough has been removed, we will cut it into smaller sections and pile it in one place. We will dispose of the eavestrough for you; if possible, we will recycle the old eavestrough (assuming it is made of a recyclable material).
Final Measurement and New Eavestrough Installation
Once the old eavestrough is removed, we again measure the areas that we will be installing eavestrough on. This ensures that the pieces of eavestrough we create will be of sufficient length to perform their job unfailingly.
Once all measurements are complete, we then use our truck-mounted eavestrough press to create the continuous pieces of eavestrough. We carefully inspect each piece as it rolls off the assembly line to ensure it is free of defects.
With the new pieces of continuous eavestrough freshly made, we integrate a durable mounting system and install the install the eavestrough on your home/building.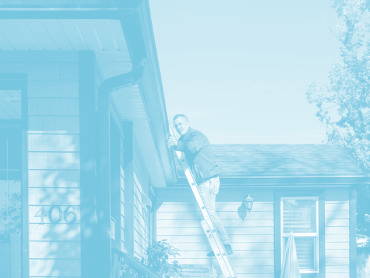 Visual Inspection
With your new eavestroughing now installed, we will measure and install your downspouts. Included with each quote are flip-up style downspouts, which can be neatly tucked out of the way when not in use.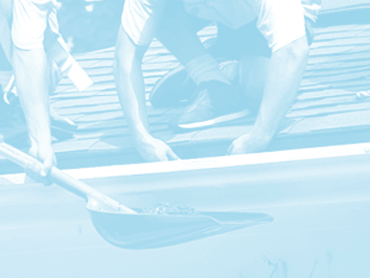 Clean up
We're just about done! Now that you're new eavestroughing and downspouts are installed, we will perform a slope/leak test. This test checks to ensure that the eavestrough is sloped properly, so that water runs to the downspouts to be drained.
If we see any areas where water pools, we will raise or lower that section to ensure proper water flow.
We also check end-caps and corners to ensure that they are properly sealed and do not leak.
Frequently Asked Questions About Our Eavestroughing Services

---
For most homes in the Calgary area, we are on site for under five hours from start to finish.