Alu-Rex Continuous Hanger
A proven set-and-forget gutter protection system that keeps eavestrough free of debris. Backed by the best warranty available on the market.
Clog-Free Eavestrough That Lasts Longer Than the Building We Install It On
Alu-Rex Gutter Protection systems do more than just keep your eaves free of junk. Through their unique continuous hangar/protector design, they dramatically increase the strength of the eaves.
Lifetime Material Warranty
Alu-Rex offers a lifetime manufacture/sturdiness warranty.
Clog Free Guarantee
Alu-Rex is the "do it once and never think about it again" solution.
Ideal for Snow
Alu-Rex is more than strong enough to handle Alberta's winter weather.
A Smart Investment
The incremental cost of Alu-Rex pays for itself by eliminating the need to clean your gutters… ever!
Questions Customers Ask Us About Our Alu-Rex Gutter Systems

In a city with as much snow as Calgary, Alu-Rex gutter systems help keep you off the roof. These FAQ's might help you feel confident about your investment.
Will ALU-Rex Leafguards Work on My Eavestroughs?
Yes! ALU-Rex products will fit onto the 5" and 6" eavestroughs found on most Calgary homes. These leafguards are designed to be installed where the hangars in your eavestrough system would normally go, allowing them to fit eavestroughs for standard asphalt laminate shingle roofs, as well as those made from tile, metal, rubber, or wood shakes.
How Long Does it Take to Install ALU-Rex Leafguards?
There is no manufacturing delay when you order ALU-Rex leafguards from Big 5. That's because we source all the materials for the job directly from local companies right here in Calgary.
Our work trucks show up at your doorstep on the date you scheduled, with everything we need for the job. We also measure and cut all ALU-Rex products on site to fit your eavestroughs, so there's no going back and forth to get your new leafguards.
Do ALU-Rex Leafguards Make Cleaning Eavestroughs More Difficult?
ALU-Rex products prevent the need for regular gutter cleaning, since debris settles on top of the gutters instead of inside them. Access panels can still be installed in ALU-Rex products, but most homeowners find them unnecessary.
What Warranties Do ALU-Rex Leafguards Come With?
ALU-Rex products are backed by some of the best warranties in the industry. The ALU-Rex DoublePro™ Eavestrough comes with a clog-free 360º Lifetime Warranty, while the T-Rex® Eavestrough carries a Lifetime Warranty on sturdiness.
Alu-Rex guards installed alongside new eavestrough are backed by our Big 5 Year installation warranty in addition to the materials warranty provided by Alu-Rex.
What Are the Main Benefits of ALU-Rex Leafguards?
Our ALU-Rex T-Rex leafguards are a continuous hangar system, which means there are no seams to worry about. 
ALU-Rex T-Rex leafguards are also rated for up to 250lb per linear foot, which means they will not easily become detached from your eavestroughs. They are designed to remain firmly attached through a wide range of challenging environmental conditions without deforming or collapsing.
How Do ALU-Rex Leafguards Protect Your Eavestroughs in Winter?
ALU-Rex leafguards protect your eavestroughs year-round by causing snow and ice to settle on top of the gutters instead of within them. This keeps your eavestroughs functional throughout freezing and thawing cycles, making them ideal for Alberta winters.
How Do ALU-Rex Leafguards Clean Themselves?
Once debris settles on top of your ALU-Rex leafguards, all it takes is a light gust of wind to blow it away. Wet debris will be heavier, but once it has had a chance to dry naturally in the open air it will also be carried away easily by the wind.
All ALU-Rex leafguards are specifically designed so any debris that collects on top will be exposed to wind and carried away from your eavestroughs.
Why Should You Have ALU-Rex Leafguards Professionally Installed?
ALU-Rex leafguards must be measured and cut to fit your existing eavestroughs. Since the process is bespoke for every house, it's best to let a professional contractor take care of it instead of trying to do it yourself.
Hiring Big 5 to install your ALU-Rex leafguards also reduces your risk of personal injury and ensures your new leafguards will be set up effectively. For more information on having ALU-Rex products professionally installed, contact us and speak with our team.

DoublePro™ Eavestrough
DoublePro™ is the most advanced gutter filtration and support
technology available. A unique design, it features two ingeniously
perforated layers of industrial-grade aluminum that keep debris
out of the gutter and rainwater flowing away from your home. We
highly recommend that all our customers consider the advantages
of this revolutionary Alu-Rex product before making a final decision
on their gutter system.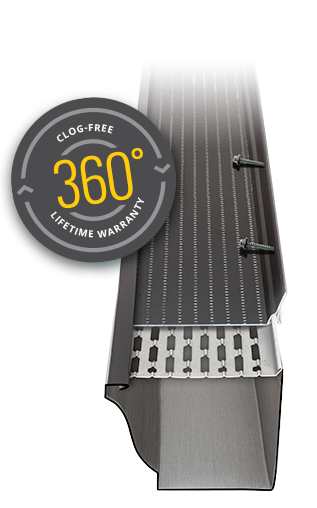 T-Rex® Eavestrough
Our most popular gutter model by far is the T-Rex®, which can be
installed on residential properties and commercial buildings.
Perforated aluminum runs the length of the eavestrough, providing
continuous protection and keeping it straight and free of debris.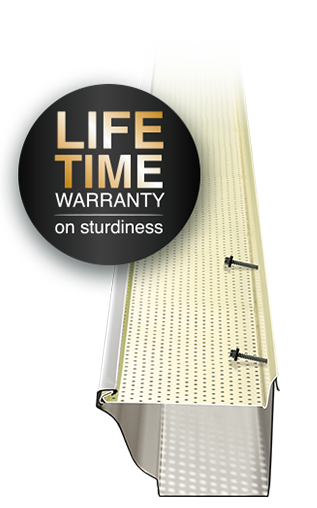 5 Reasons to Hire Big 5 Exteriors for Your Leaf Guard Installation

The Best Value in Calgary
We charge fair market-competitive prices without compromising on install or material quality.
Eavestrough & Leaf Guard Experts
With a history dating back to 1984, few companies have installed or repaired as much eavestrough as Big 5!
Multi-Generation Family-Owned & Operated
Our team works hard to offer the best product at the best price, and has since our founding in 1984.
Our Big 5-Year Warranty
We've survived and thrived through every boom (and bust). You can count on us being there when you need us.
Big 5 just finished replacing all my homes gutters. They did an amazing job! The crew was efficient and professional and the work was top notch!
Safe , professional, site was always clean. No chatting, no music, just 2 quality tradesmen getting the project done. They noticed a couple spots on second story where the caulk was letting go...they noticed and they fixed...i wouldn't have known if I didn't see them. Site was cleaned up like nothing happened.
I needed new gutters for a rental property, and they were professional and very efficient. They even nipped a possible leak problem in the bud for us! I would recommend them to anyone!
Vinyl Siding Installation