Alu-Rex Continuous Hanger
A proven set-and-forget gutter protection system that keeps eavestrough free of debris. Backed by the best warranty available on the market.
Clog-Free Eavestrough That Lasts Longer Than the Building We Install It On
Alu-Rex Gutter Protection systems do more than just keep your eaves free of junk. Through their unique continuous hangar/protector design, they dramatically increase the strength of the eaves.
Lifetime Material Warranty
Alu-Rex offers a lifetime manufacture/sturdiness warranty.
Clog Free Guarantee
Alu-Rex is the "do it once and never think about it again" solution.
Ideal for Snow
Alu-Rex is more than strong enough to handle Alberta's winter weather.
A Smart Investment
The incremental cost of Alu-Rex pays for itself by eliminating the need to clean your gutters… ever!

DoublePro™ Eavestrough
DoublePro™ is the most advanced gutter filtration and support
technology available. A unique design, it features two ingeniously
perforated layers of industrial-grade aluminum that keep debris
out of the gutter and rainwater flowing away from your home. We
highly recommend that all our customers consider the advantages
of this revolutionary Alu-Rex product before making a final decision
on their gutter system.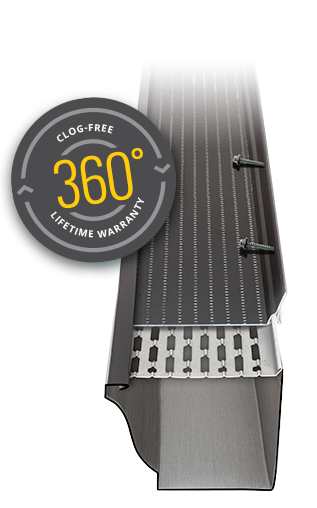 T-Rex® Eavestrough
Our most popular gutter model by far is the T-Rex®, which can be
installed on residential properties and commercial buildings.
Perforated aluminum runs the length of the eavestrough, providing
continuous protection and keeping it straight and free of debris.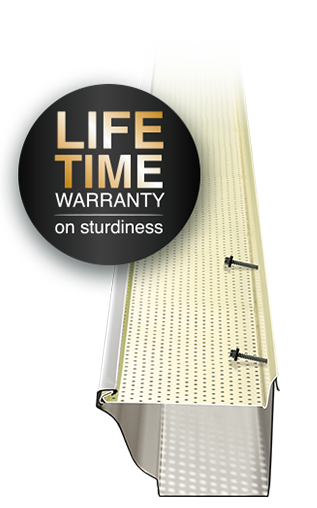 5 Reasons to Hire Big 5 Exteriors for Your Leaf Guard Installation

The Best Value in Calgary
We charge fair market-competitive prices without compromising on install or material quality.
Eavestrough & Leaf Guard Experts
With a history dating back to 1984, few companies have installed or repaired as much eavestrough as Big 5!
Multi-Generation Family-Owned & Operated
Our team works hard to offer the best product at the best price, and has since our founding in 1984.
Our Big 5-Year Warranty
We've survived and thrived through every boom (and bust). You can count on us being there when you need us.
Big 5 just finished replacing all my homes gutters. They did an amazing job! The crew was efficient and professional and the work was top notch!
Safe , professional, site was always clean. No chatting, no music, just 2 quality tradesmen getting the project done. They noticed a couple spots on second story where the caulk was letting go...they noticed and they fixed...i wouldn't have known if I didn't see them. Site was cleaned up like nothing happened.
I needed new gutters for a rental property, and they were professional and very efficient. They even nipped a possible leak problem in the bud for us! I would recommend them to anyone!
Vinyl Siding Installation