Summary:
Vinyl siding is a popular choice among homeowners in Calgary due to its versatility and durability.
Hardie board siding is built for Alberta's unpredictable climate and can mimic the look of various materials.
Vinyl siding is low-maintenance, immune to complications like rotting and flaking, and can withstand harsh weather conditions.
With careful selection and professional installation, vinyl siding can look great and not obscure architectural features.
The blog shows how to enhance vinyl siding by changing colors, matching with roof tiles and exterior features, mixing textures, increasing contrast between Hardie and trim, and modernizing with other materials.
Some people think of vinyl as the "default" siding material, since it's such a popular choice among Calgary homeowners. However, while it's true that you'll certainly see a lot of houses in Southern Alberta with vinyl siding, that doesn't mean this type of material can't be used to help your home look beautiful and unique. The truth is, not all vinyl siding jobs are created equal. Not only does vinyl offer plenty of versatility when it comes to design choices, but the right contractors can also bring out the best in your building by paying the right amount of attention to key details during the installation process.
You might also find yourself surprised when you realize just how many homes are featuring hardie board siding. This incredibly versatile material is built for Alberta's unpredictable climate, it has impressive longevity, and it can mimic the look of just about any material – cedar planks, shingles, wood panels, and more.
We've put vinyl (and a few other materials) on plenty of Calgary homes over the years, and in that time we've seen firsthand the potential that this kind of siding offers. Scroll down and take a look at some of the truly eye-catching houses we've had the privilege to work on in recent memory, so that you can understand vinyl and hardie board siding's potential for yourself!
6 Homes that Show The Benefits & Options of Vinyl & Hardie Siding
Vinyl siding offers plenty of advantages over other materials. For starters, it's low-maintenance when compared with wooden siding since it comes with through-body colouring and therefore never needs repainting. Vinyl is also immune to complications such as rotting and flaking, which makes it highly durable. It even stands up well to harsh weather like rain and snow (which probably explains why it's particularly favoured by Alberta homeowners).
One of the largest concerns we hear about vinyl siding from potential new customers is that it will obscure architectural features on their homes — or, more simply, that it just won't look nice. To that, we say: stop worrying! Vinyl can look great when it's chosen with care and installed by professionals who know what they're doing. Below are five houses we were proud to cover with vinyl siding, along with brief explanations of what made these jobs effective.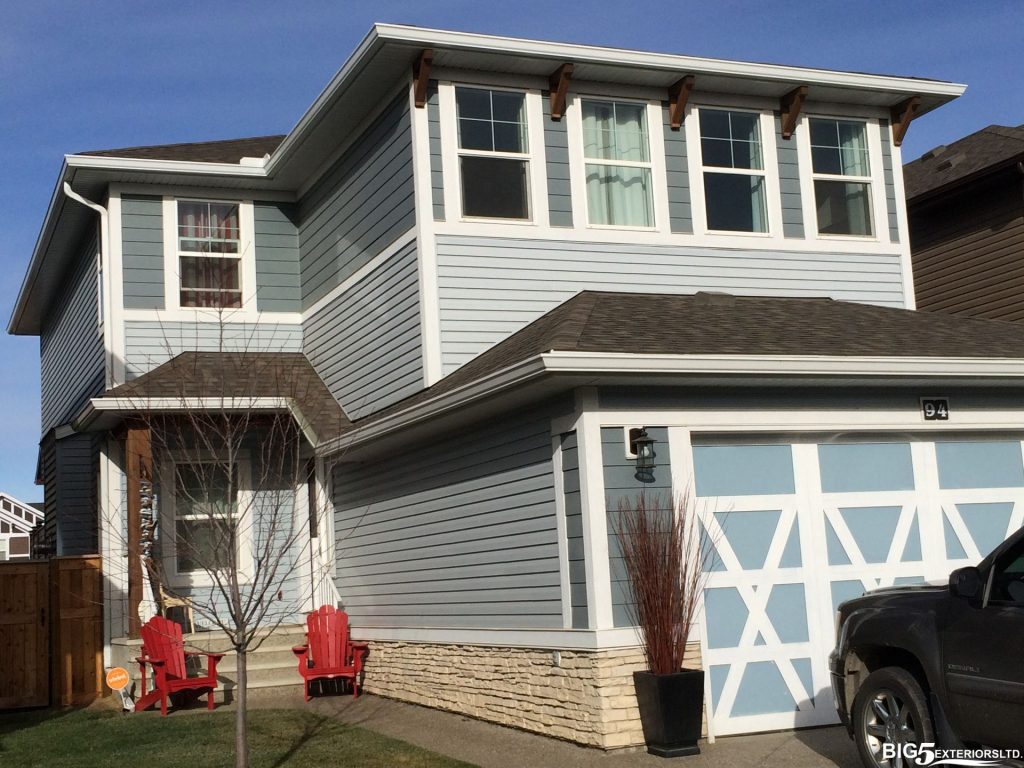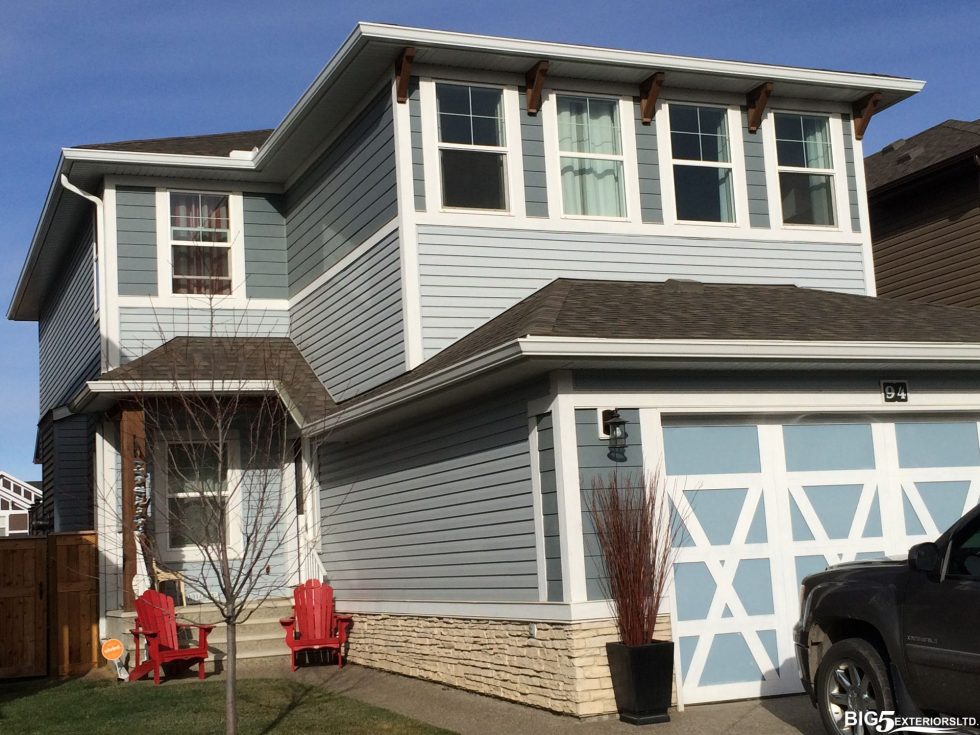 1: Using Multiple Tones
Houses need to have personality, and changing up the colours slightly when it comes to the siding of a home can be an easy way to bring out the natural character of the structure. The different tones used on various sections of siding here are subtle, but they make a big difference — preventing the entire building from looking bland or uniform.
One common mistake among inexperienced contractors is to lock siding like this down way too tightly against the walls of the house. That seems like common sense if you've never installed vinyl siding before, but in reality it prevents the siding from being able to adjust properly as seasonal changes cause it to expand and contract. We always make sure to leave a small gap between the siding we install and the heads of the nails we use to lock it in place. That way, it won't go through undue stress as the outdoor temperature changes.
2: Matching Colours to Roof Tiles and Other Exterior Features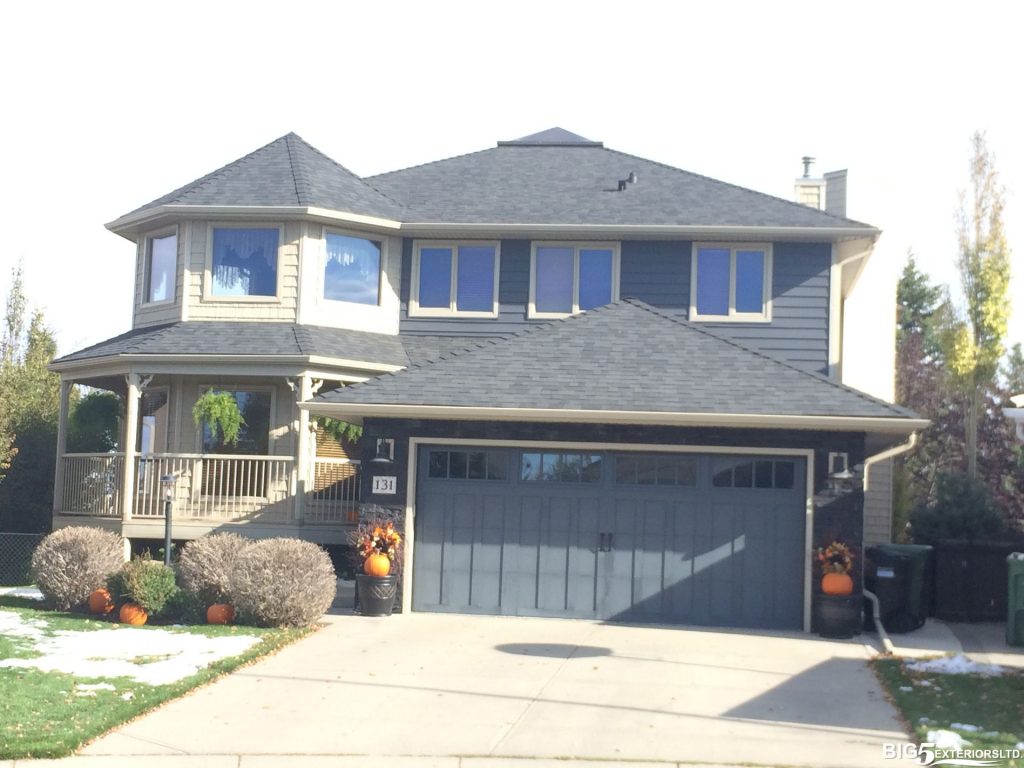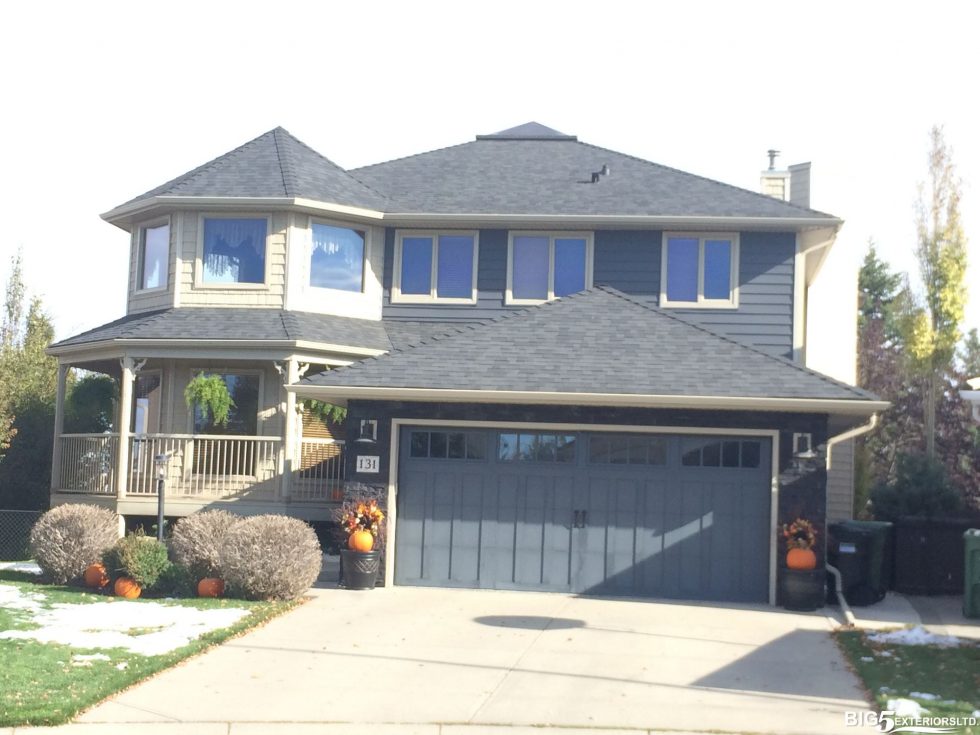 This striking home gets a lot of its curbside appeal from the fact that the majority of the vinyl siding matches the tone of the rooftop tiles. Not only does this prevent the roof from looking out of place after the installation (a problem on homes where the siding has been chosen arbitrarily), but it also allows the brighter vinyl on the house's turret to stand out in pleasant contrast to the rest of the building, setting that portion of the structure apart and making the entire property appear somewhat larger.
Speaking of roofing, it's worth noting that you can't just use any nails for installing vinyl siding. We favour galvanized roofing nails for most of our installations, since they offer strong resistance to the elements.
3: Mixing and Matching Textures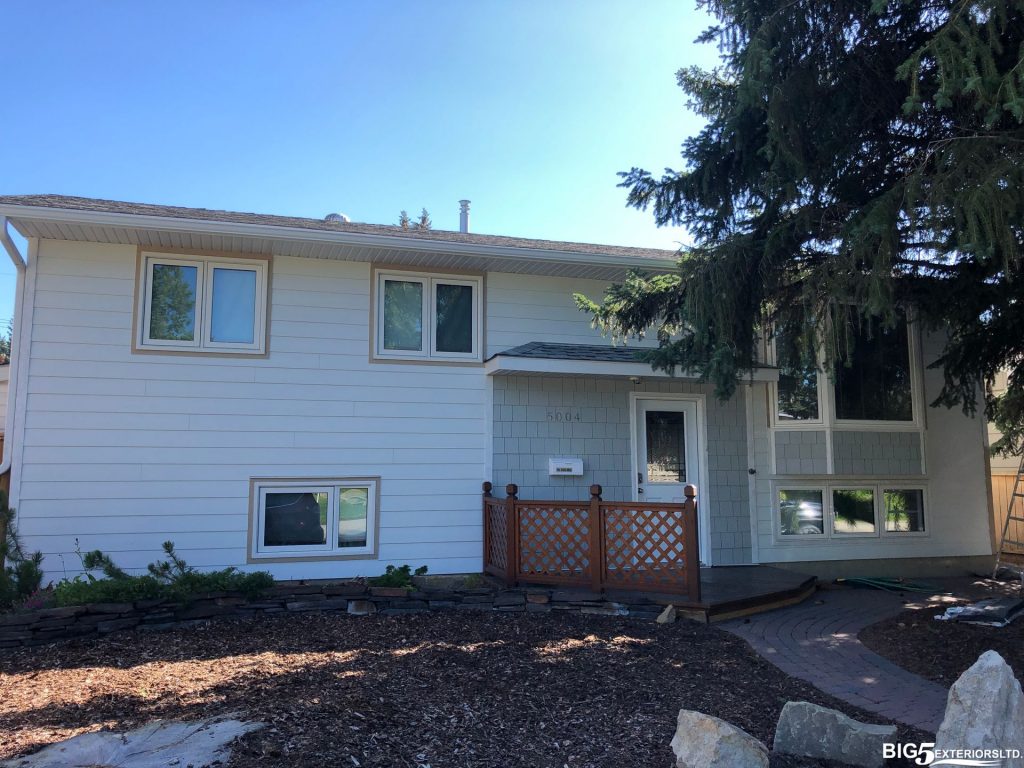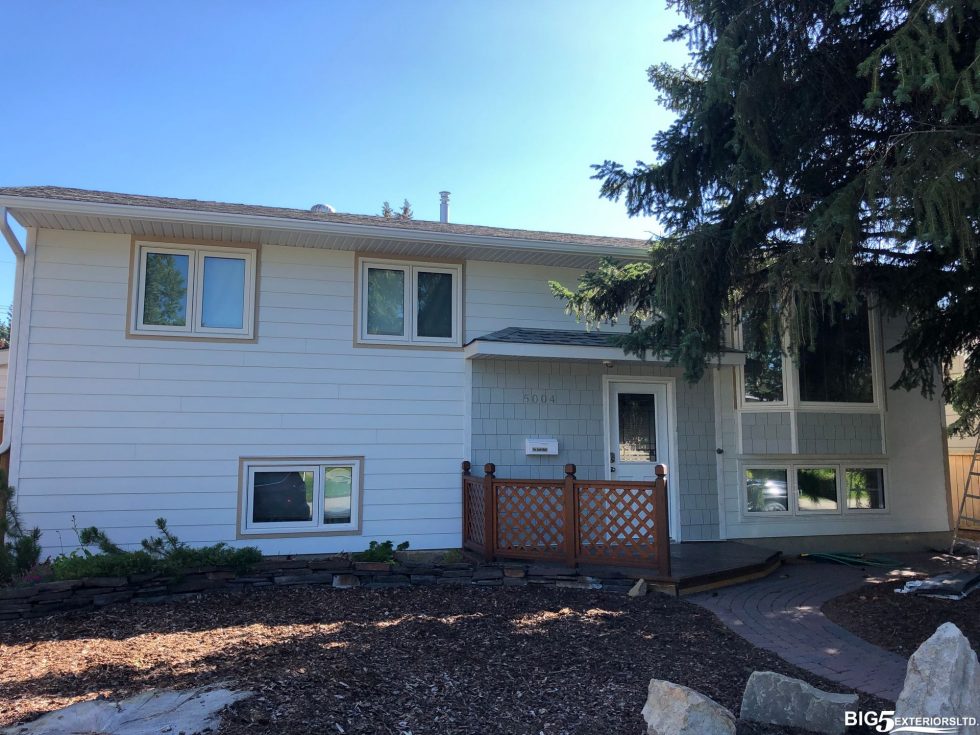 It's common to see vinyl or hardie siding in uniform horizontal strips, but we recommend shaking things up a little by employing a few other textures in carefully-chosen spots. Notice that this split-level home uses shingles around the front door and below the bay window to draw attention to those areas and create a more welcoming look.
When installing vinyl siding around windows it's critically important to flash the bottom corners by covering them with small pieces of roofing felt. When done properly, this will prevent water from making its way to the frame where it can eventually cause rotting.
4: Dialing up the Contrast Between Hardie and Trim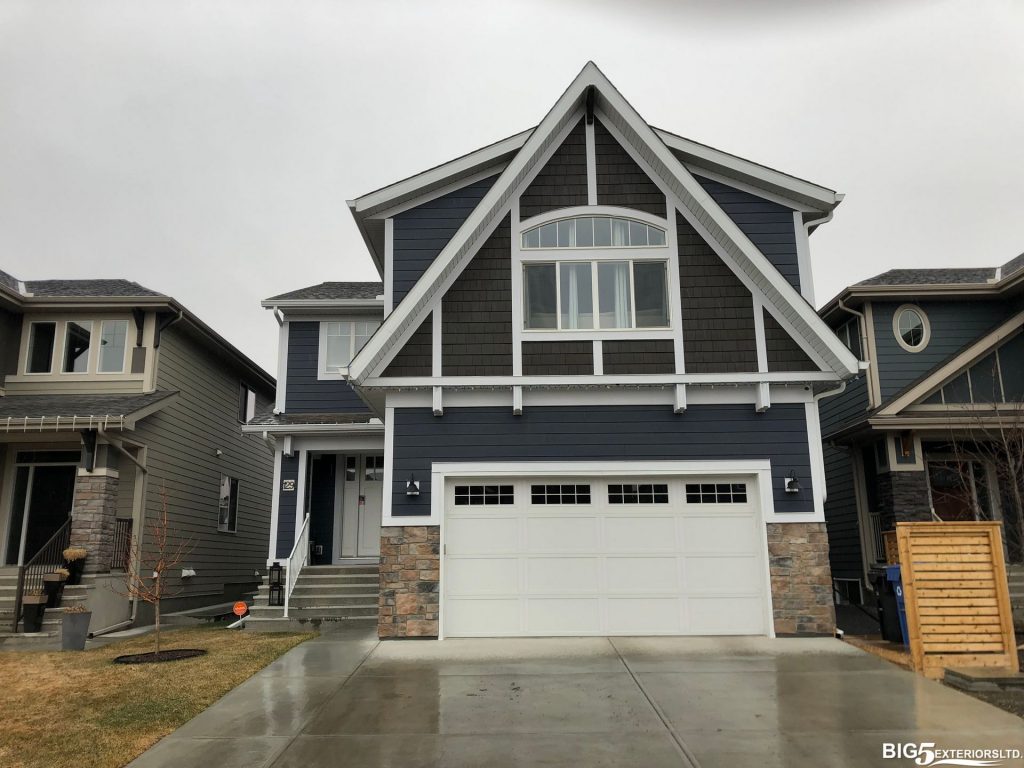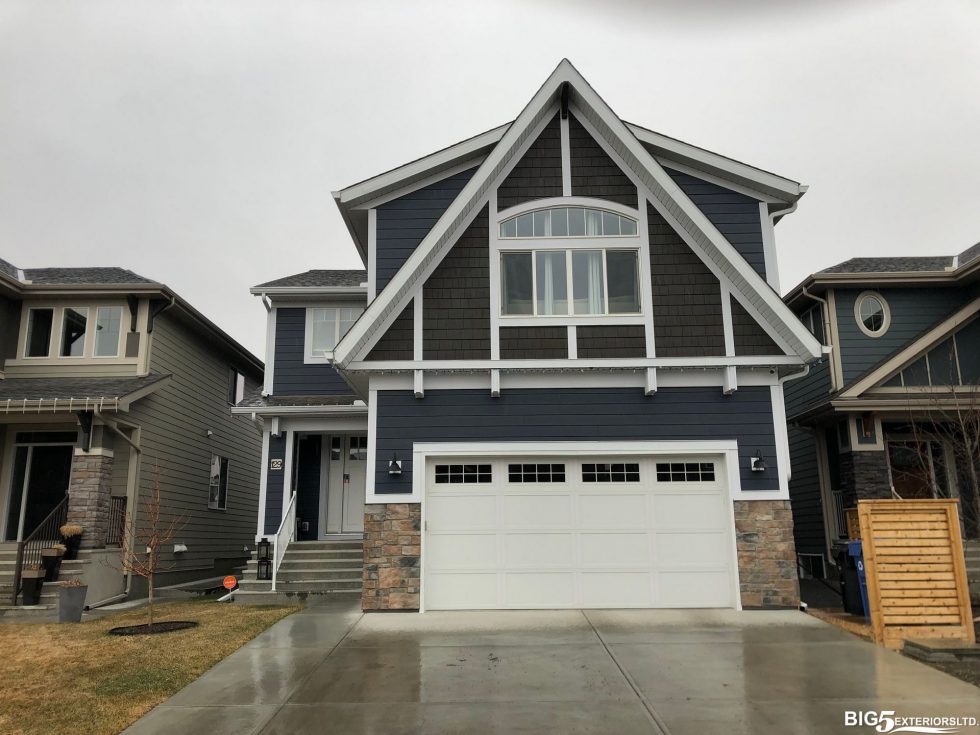 What draws your eye to this beautiful A-frame? If you're anything like us, you've probably noticed how sharp the structure looks when the dark hardie siding is outlined by bright, clean trim — it's almost like the house is wearing a suit!
Since we're already talking about outlines, here's another siding installation tip: when we're starting a new installation, we always put a level chalk line around the structure where we intend to put the first run of siding. This helps us make sure that the siding goes on straight, which makes installing it easier and allows it to function more effectively afterwards.
5: Getting a Modern Look by Pairing Hardie or Vinyl With Other Materials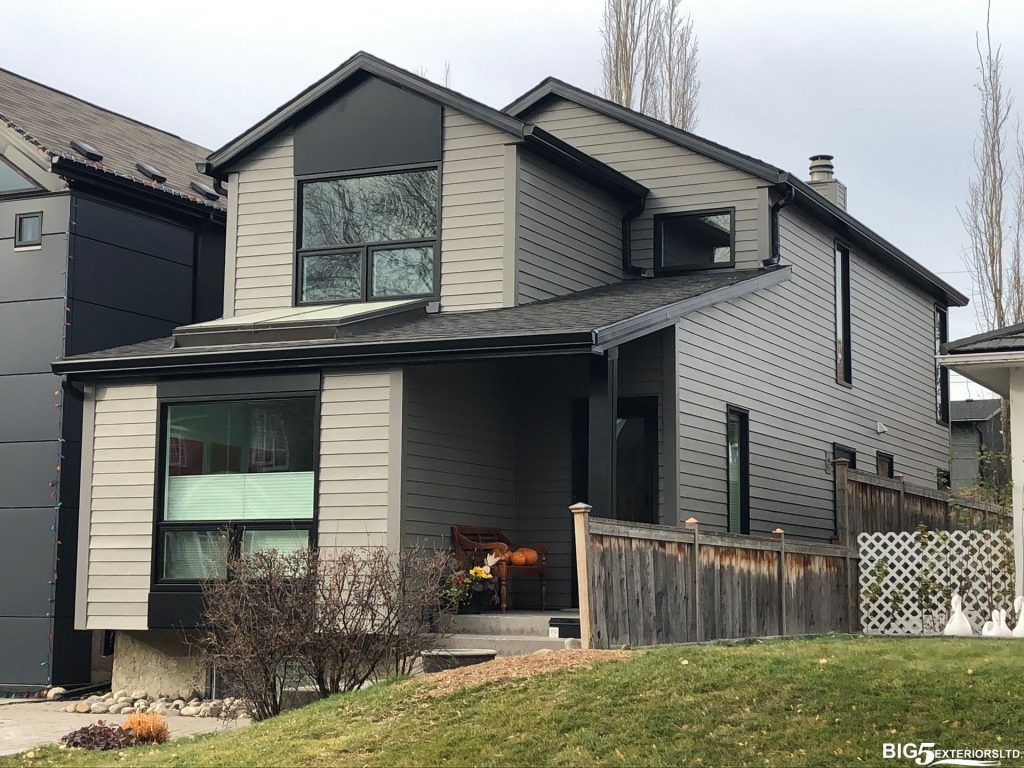 It's okay to mix vinyl with other materials occasionally — you'll probably want to stick with vinyl for most of your siding because it's more cost-effective, but consider using metal or fibreglass to accent specific features and draw attention to them.
Just remember: vinyl needs to breathe. It contracts in the cold and expands during warmer periods, so ensure that your contractors are leaving enough room on the ends of the boards for them to move around a little and prevent buckling.
6: Hardie Board is Great at Mimicking the Texture of Other Materials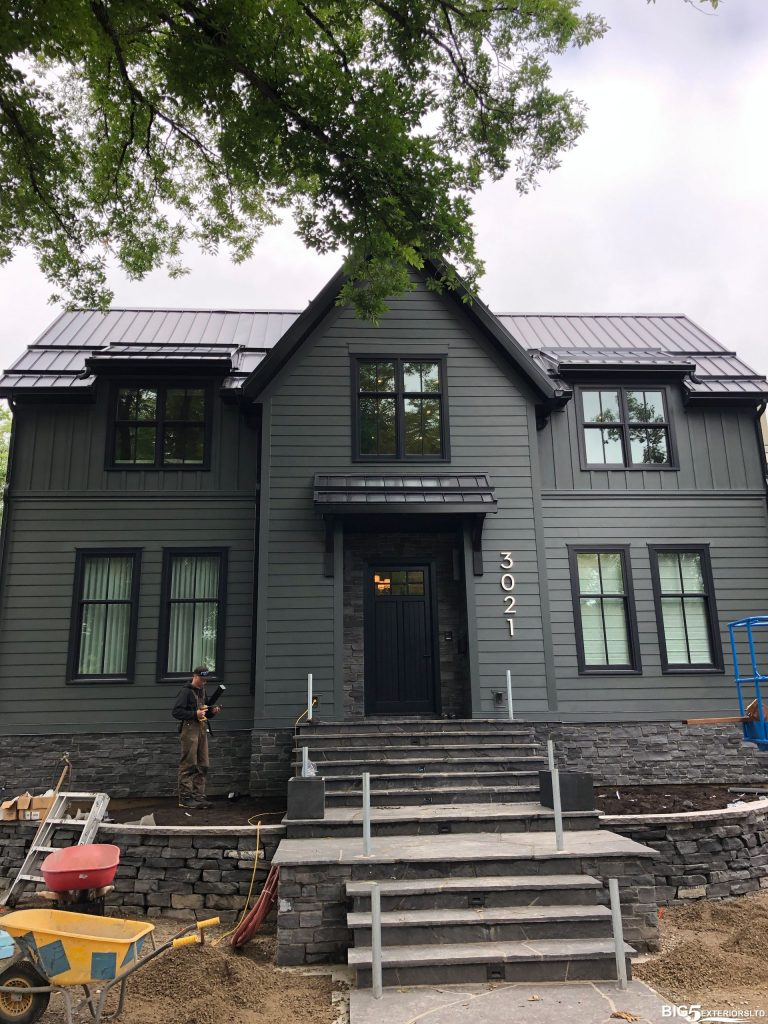 You'll notice right away that hardie board is just as good as vinyl at mimicking the texture of other materials. It also comes in an incredible variety of tones and shades — and offers incredible durability (although it can eventually require repainting). This homeowner wanted hardie board siding in horizontal strips around the bottom half of the house, with vertical stripes on the top left-and-right portions for a kind of pattern-blocking effect. It prevents the single dark color from looking too monotonous, and allows the home to appear elegant while retaining an air of refinement and dignity.
The Potential of Vinyl or Hardie Board Siding
Just because lots of other homes have vinyl siding doesn't mean you can't use it to give your house a unique appearance. You may have never heard about hardie board and feel unsure if it's the best choice. Wondering what vinyl or hardie siding could do for your property? Contact us to see more examples of how we've used vinyl, hardie board, and other conventional materials to eye-popping effect on numerous area homes.